Essenz for 21Shoe has got you covered for summer!
My favourite day of the month, the 21st, is coming up soon, and in the spirit of the warmer weather that's been slowly creeping its way in,
Essenz
's items for 21Shoe are 2 pairs of sandals!
Essenz's Tenerife sandals are made for the Slink FLAT feet, as well as Maitreya (which I'm wearing above), and come with a convenient little HUD to change the metal between gold and silver, and the insole/sole of the shoe between black and natural. On the right I'm wearing the Peach version of these sandals, with the natural bottom, and gold metal option, and on the left, I'm wearing purple, with the black bottom, and silver metal!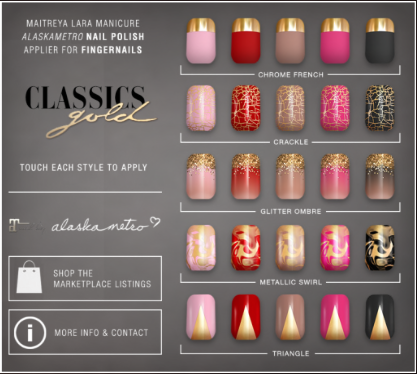 If you look closely, you'll notice that I'm wearing AlaskaMetro nail polish on my Maitreya feet and hands! AlaskaMetro recently updated their nail sets to include applier HUDs for not only Slink, but also Maitreya, Omega, and the Eve body... and the best part? Her prices are just as low as ever. The pack I'm wearing is only $L25!
I've paired these with a fun sundress, and a pretty dangly necklace, that I bought at this round of The Dressing Room! My dress is available from
Third Eye for just $L70 right now at TDR, and my necklace from Glow Studio is the same price
aaaaaaand finally, I've topped off my outfit with a new "cheapie" skin from
Lumae, and a brand new hair from
Doe (formerly Ploom) that's out at the Fantasy Gacha Carnival (I'll talk about this a little more in an upcoming post)! The Adore skin from
Lumae, with the cute "Tulips" makeup is currently available for just $L75 per tone right now. This skin includes ALL of the options that
Lumae's normal skins come with, AND all head AND body appliers as well! (That's a LOT of stuff!)
Skin: Lumae - Adore - 2 - Satin // Tulips - On sale for $L75 till the 23rd! <3
Nails: Alaskametro - metallic pack nail polish - Classics/Gold <3
Shoes: Essenz - Tenerife - Peach/Purple - Event item! For 21Shoe! WILL ONLY BE AVAILABLE ON THE 21ST OF THE MONTH! <3